The year 2021 has just started, and there is a shocking news that almost everyone inside and outside the industry is paying attention to, that is, the prices of various raw materials have risen sharply. Copper, plastics, aluminum, iron, glass, zinc alloy, and stainless steel have all increased by 30% ~45%.
According to the price monitoring of the business agency, on February 23, 2021, the Shanghai and Shenzhen raw material prices rose and fell a total of 57 commodities, which were concentrated in the chemical sector (23 kinds in total) and non-ferrous metals (10 kinds in total), with an increase of 5% The above commodities are mainly concentrated in the chemical sector; the top 3 commodities with an increase are TDI (19.28%), phthalic anhydride (9.31%), and OX (9.09%). The average daily increase and decrease was 1.42%.
Affected by the [supply shortage" factor, the prices of raw materials such as copper, iron, aluminum, and plastics have continued to rise; due to the collective closure of large global oil refineries, chemical raw materials have soared almost across the board. The affected industries involve furniture, home appliances, electronics, textiles, tires, and so on.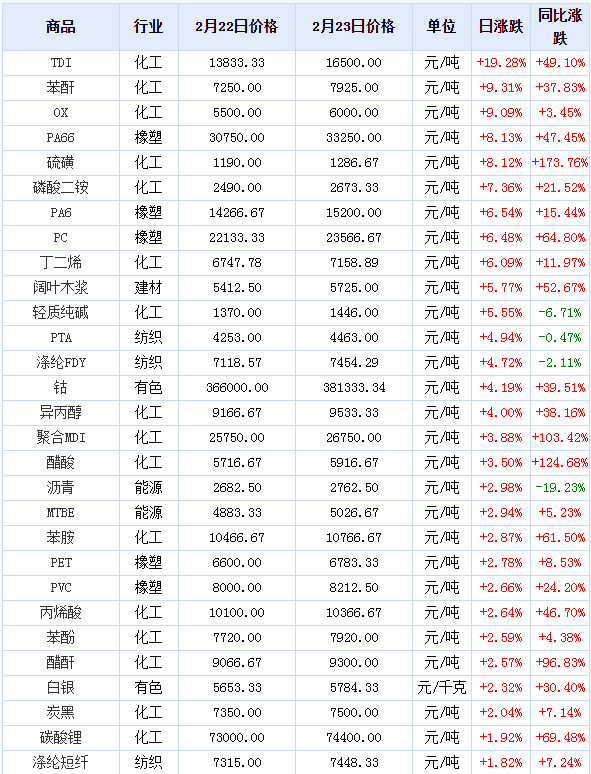 On the first opening day of the Year of the Ox on February 18, General Plastics ushered in a good start. The price of PE soared by 8.06%, the price of PP rose by 7.18%, and PVC also closed strongly. Engineering plastics companies have recently issued price adjustment announcements one after another, including DuPont, SK, Nanya Plastics, BASF, Songyuan Group, Changchun Chemical and other companies, and their price increases have varied.
SHENZHEN XIONGYIHUA PLASTIC INSULATION LTD
Business Type:Distributor/Wholesaler , Manufacturer
Product Range:Plastic Rods , Insulation Materials & Elements , Plastic Sheets
Products/Service:POM SHEET/ROD , 3240/FR4 Epoxy Glass Sheet , PA6/MC Nylon Sheet/ Rod , Bakelite Sheet , ABS/PTFE/PVC/PP/PE Sheet/Rod , CNC Engraving Service
Certificate:CE , FDA , ISO14001 , ISO9001 , REACH , RoHS , FCC , MSDS , Test Report , TUV
Company Address:NO.2 Longxian Road,Xinsheng Community,Longgang Street,Longgang District, Shenzhen,Guangdong,China, Shenzhen, Guangdong, China